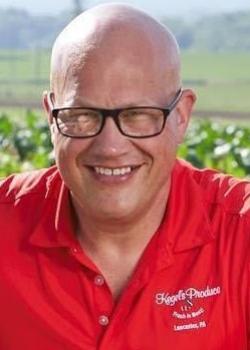 Kenny Myers was born and raised in Lancaster County. He graduated from McCaskey High School. Kenny
has 3 sons, KJ, attending St. Joseph's University; Kerek, attending Elon College; and Koby, attending Lancaster Catholic High School. Kenny, along with his mom, Suzanne, have been running Kegel's Produce since 1992 when Ken Sr passed away.
Kegel's Produce has been a family-owned business for 75 years. Mary Myers (Kenny's grandmother) and
Earl P. Kegel ran the business until 1985, when Ken Sr. and Suzanne bought it. They were located on
Mulberry Street in Lancaster City. Kenny knew they needed to move out of the city into a bigger facility
when the trucks bringing in the produce could not fit down the alley.
They moved to Loop Road, which had about 26,000 square feet off Manheim Pike in 1996, but the business
expanded so quickly they moved again to the current location in 2004 on Old Tree Drive. The Old Tree
location is about 114,000 square feet and has 5 different temperature controlled coolers.
Kenny is a lifelong Philadelphia Eagles fan. He and his three sons had the great honor to see the Eagles
win the Super Bowl in 2018.
Kenny and Kegel's Produce have received many awards over the years.
2002 and 2007: Purveyor of the Year from the Chef's Association.
2003: Kenny appointed to Pennsylvania Department of Agriculture's Education Advisory Board.
2004: Kenny named to 2004 Lancaster Multiple Sclerosis Society Leadership Class
2005: Kenny and Kegel's Produce were one of the first companies to own a box at the
Lancaster Barnstormers' stadium.
2007: Kenny was named in the 40 under 40 by Central Penn Business Journal.
2009: Vendor of the Year by Sodexo
2012: Kenny donates to the Ann B. Barshinger Cancer Center in honor of Ken C. Myers.
2013: Received McCaskey Football's J. Freeland Chryst Award for ongoing and continued support of the program.
2016 and 2017: Lancaster County Sports Hall of Fame treasurer.
2016: American Heart Association Lancaster Heart Walk chair.
2018: McCaskey 1989 Football team inducted into the McCaskey Hall of Fame.
2019: Food Safety Award.
2020: Lancaster County Boxing Hall of Fame.
Kenny's commitment to Kegel's and its service model has been recognized for its superior outcomes by
the local community as well as throughout the Commonwealth of Pennsylvania and beyond. The impact that has
on local growers has enhanced their reputations for high quality and impeccable standards when they
choose to work under Kegel's "Fresh is Best" umbrella for quality standards. Led by Kenny, the Kegel's
team has helped put Lancaster on the map for healthy agriculture products that are in demand by food
establishments state- and nationwide.
Kenny rejoined the Hall of Fame board in November 2022.