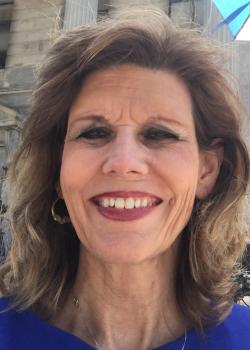 Born and raised in Lancaster, Barbara graduated from J.P. McCaskey High School and played on the softball and tennis teams, as well as the basketball team, which one year advanced to the state final. She was an Honorable Mention All-America basketball player, first-team all-state, all-league and district. She was Intelligencer Journal Athlete of the Year, McCaskey Athlete of the Year. and made several all-star teams.
While at Boston University, Barbara played and captained the basketball team, advancing to the NAIA National Playoffs freshman year and was sports editor of the university newspaper. She earned a master's eegree from American University. Barbara is employed by WGAL TV as a news and sports reporter/anchor, and is an award-winning television news and sports journalist, including Walter Cronkite Award for Political Coverage.
She has been an anchor and reporter of news and sports for various stations and play-by-play sportscaster in Maine. She has anchored, reported and produced sports in Boston. She has covered presidential campaigns, interviewing candidates from Bill Clinton to John McCain and Joe Biden. She has interviewed Super Bowl MVP's.
Barbara played professional basketball in England for Crystal Palace, was inducted into Pennsylvania Sports Hall of Fame-Susquehanna Valley Chapter (2019), inducted into McCaskey Sports Hall of Fame (2005) and was a McCaskey Distinguished Alumni Recipient (2009).
Barbara has been involved in her community by participating in various charitable endeavors through the television stations that she served. She has volunteered at community playgrounds, Heart Association walks and children's hospitals. Barbara joined the Board of Directors for the Lancaster County Sports Hall of Fame in 2020.