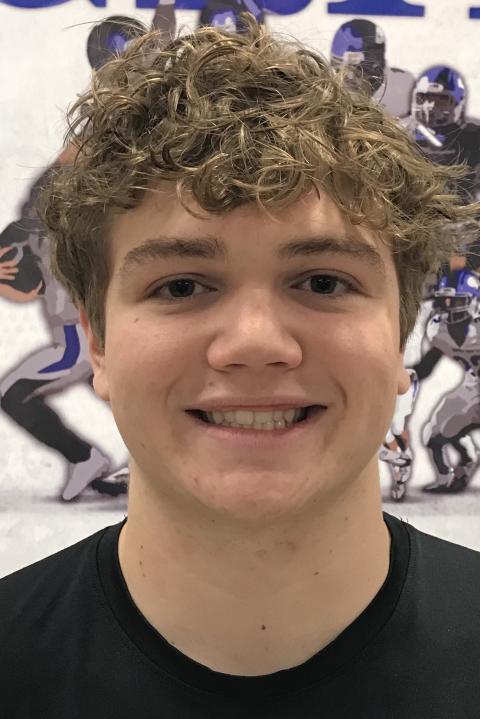 Wilson's Cam Jones and Wyomissing's Jven Williams earned two honors each as the Manheim Touchdown Club presented its Lancaster-Lebanon League players of the year awards durings its 21st annual Tri-County All-Star Football Game.
Jones was Big School Player of the Year and Big School Specialist, and Jeven Williams was Small School Player of the Year and Small School Lineman of the Year. Garden Spot's Tyler Hurst (pictured) was Big School Lineman of the Year, and Josiah Jordan of Berks Catholic was Small School Lineman of the Year. Bios and photos of all the nominees and winners are below.
Previously played as North vs. South, this year's game at Elden Rettew Stadium, Manheim Central High School, Manheim, was contested between players from Lancaster County high schools and players from Lebanon and Berks County schools. The game was ended when players elected not to start the second half after a medical emergency in the stands.
The Lancaster County team was coached by George Eager of Hempfield. Matt Bauer of Exeter led the LebBerks team. Team rosters are below.
Game Scoring
Lanc -- Jaevon Parker, Lancaster Catholic, 10-yard pass from Jack Reed, Warwick, Lanc 7, LebBerks 0
Lanc -- Shymere Covington, Manheim Township, 3-yard run, Lanc 14, LebBerks 0
Here are the award finalists in each category (photos below).
L-L League Lineman of the Year
Big School (4A-6A)
Tyler Hurst, Garden Spot - Tyler is the son of Dwight and Donna Hurst. He has been a dominant trench player for the Garden Spot Spartans for the last three seasons. His play is characterized by aggressiveness, grit, and relentlessness. Off the field, Tyler is known as a great teammate, a hard worker, and a young man of integrity with an excellent sense of humor. Tyler has also been a force on the wrestling mat for the Spartans for the last three seasons. As a sophomore, Tyler was a second team section defensive tackle. As a junior, he developed into a first team guard and defensive tackle as well as a second team All PFN All-State selection. As a senior, Tyler repeated as a first team section guard and defensive tackle as well as the Section 3 Defensive Lineman of the Year and Lineman of the Year. He was also named to the All-League team and the PA Sports Writers 5A All-State team at defensive tackle. In wrestling, during Tyler's senior season, he recorded 31 wins, 22 by fall, was the L-L League runner up at 215 lbs. and was a L-L Section 2 first team all-star as he was a District 3 Sectional runner up and District qualifier. Tyler will attend Millersville University where he will major in Construction Management and will be part of the Marauder Wrestling squad. The Spartan athletic community will miss Tyler's dominance on the field and mat as well as his sizeable personality off the field.
Deyvid Palepale, Hempfield - Deyvid is the son of Sayonara Palepale and Tumua Lauano. He is a rising senior that has been a major contributor for the Hempfield Black Knights the last two seasons. Deyvid has excelled on both sides of the ball as an offensive and defensive lineman. His production has earned him national and local notoriety. As a sophomore, he was a first team Section One interior defensive linemen selection. As a junior, Deyvid earned first team honors as an offensive and interior defensive lineman. He was named Defensive Linemen of the Year as well as the Most Outstanding Linemen of the Year in Section One. This past season Deyvid was a Pennsylvania 6A All-State selection as a defensive lineman. His production on the field has earned him over 20 Division One scholarship offers that include nationally prominent programs such as Ohio State, Penn State, Notre Dame, USC, Michigan, and South Carolina to name a few schools. Deyvid plans to announce his college decision in August.
L-L League Lineman of the Year
Small School (1A-3A)
Charles Sheppard, Hamburg Area - Charles is the son of Carsten Sheppard and Yeimy Araujo. He is a 4-year starter on the offensive and defensive lines and has been an integral part of the success of Hamburg Area football during that span. Charles is exceptionally quick and very explosive at 6'2" 280. He set a school record his senior year with 21.5 TFL. He played one of his finest career games in the 2022 District Semifinal vs Wyomissing. He also played a key role in assisting several offensive skill players, as well as the team offense in setting many school records during the Hawks nine-win 2022 season. Charles is a member of the winningest senior class in Hamburg Area history. He was named the Lancaster-Lebanon Section 5 Lineman of the Year after earning Section 5 OL & DL first team honors and was named Eastern PA Football News second team. He is a member of the PA Football News, Lancaster-Lebanon League and Berks Football Coaches All-Academic teams. For his career, Charles has 109 tackles (29.5 TFL), 12 sacks, three forced fumbles, two fumble recoveries and two touchdowns. He will play football at Kutztown University in the Fall.
J'Ven Williams, Wyomissing - J'Ven is the son of Ivette Carrasquillo and Rushard Williams Sr. J'Ven was a huge part of the Spartans' success the last few years. J'ven was a three-year letter winner and two-year starter and was part of helping Wyomissing earn three league titles, three district titles, and a career record of 37-3 (9-1, 15-1, 13-1). J'Ven's accomplishments include being a two-time ALL BERKS County selection, two-time Berks County Offensive Lineman of the Year, two-time All-State Newspaper Writer's Offensive Lineman selection, two-time All-State Coaches Offensive Lineman selection, Eastern PA Football 3A Player of the Year, and Mr. PA FOOTBALL Small School Lineman of the Year. This year in the L-L League, he was the section Lineman of the Year, Offensive Lineman of the Year, and All-League OL and DL. He was also a Maxpreps first team All-American, along with playing in the Adidas All-American game. J'Ven was rated as a 5-star recruit, with well over 20 D1 offers. He was an anchor on the OL the last two seasons playing OG and some offensive tackle as a junior. He was a pivotal piece in that he was the lead guard on many of our plays, and many times taking out multiple players when leading on our sweep plays. This year he also stepped up and played a huge part on the defensive line. Standing at 6'4, 300 pounds, J'Ven is a big, physical player, and a freak athlete for his size. Along with football, J'Ven was an elite track and field athlete. He won two state titles last spring in shot put and discus. In fact, his winning throw of 66'7 was a new PIAA 2A record. His top throws put him in the top 5 in the country in both events. He is currently an early enrollee at Penn State and playing left tackle for the Nittany Lions. J'Ven is also a finalist for the Small School Player of the Year.
L-L League Player of the Year
Big School (4A-6A)
Cam Jones, Wilson - Cam is the son of Jeremy Jones and Nia-Tenney Jones. He is a two-time first team Big School All-State pick as an athlete and was chosen to represent Pennsylvania in the Big 33 classic this spring. Cam was selected first team in the L-L Section One at four positions; Running Back, Defensive Back, Kick Returner, and Long Snapper. He was also chosen as the Outstanding Offensive Back, Outstanding Defensive Back, and Player of the Year. As a senior running back, Cam rushed for 978 yards on 108 carries for a 9.1 yards per carry average. As a three-year starter at defensive back, he was so respected that teams only challenged him eight times in 11 games, and he deflected four of those. It was as a kick returner where he was most feared. As a kick returner, after returning 3 kick-offs for touchdowns as a junior, and the first kickoff as a senior, teams refused to kick off to him and squibbed every kickoff the rest of the year. After returning four punts for touchdowns as a junior, teams did everything they could not to punt to him by punting out of bounds, but he still managed to field six punts and returned five of them for touchdowns. For all his accomplishments both as a leader on and off the field, as well as his athletic prowess, Cam was a finalist for the Mini-Maxwell Award for high school football players and was selected as the Lititz Lions Club Section 1 Player of the Year and was elected captain by his peers. He has accepted a full athletic scholarship to play football for Holy Cross. Cam is also a finalist for the Special Teams Player of the Year.
Lucas Palange, Exeter Township - Lucas is the son of James and Rachel Palange. As a four-year starter and senior captain at Exeter Township, Lucas played in 42 games with 247 total tackles. He contributed heavily to Exeter's first District Championship and PIAA appearance in 2021, as well as a 12-1 season and district championship appearance in 2022. Lucas, along with three others in his class, is the winningest player in program history. In his final season as an Eagle and only season in the L-L League, he amassed 85 tackles, 11 TFL, 2 sacks, 2 FF and a pick-six. Lucas was recognized as the Lancaster-Lebanon Section 2 Most Outstanding Lineman, Offensive Lineman of the Year, and Linebacker of the Year. In addition, Lucas was a two-time 5A All-State Guard and a 5A All-State Linebacker. His academic excellence earned him All-Academic Team for all four years! Lucas will be continuing his athletic and academic careers at Carnegie Mellon University to study Finance.
L-L League Player of the Year
Small School (1A-3A)
Josiah Jordan, Berks Catholic - Josiah is the son of Alneasa and Shelton Jordan. As a four-year starter for Berks Catholic, Josiah "JayJay" Jordan is an explosive athlete that produced on the football field. On offense, JayJay averaged almost 8 yards per carry leading the Saints with 1,217 rushing yards and 157 carries. His total of 23 touchdowns was among the best in the L-L League. On special teams, Jordan was so dynamic that most opponents kicked away from him. JayJay returned a punt for a TD and averaged 15 yards per return on 5 punt returns. On defense, JayJay had a whopping 6 interceptions as a senior to add to his career total of 15. A dominant presence at corner, a feature running back, and a dynamic return man, Josiah JayJay Jordan impacted the 2022 football season in every way possible.
J'Ven Williams, Wyomissing (see previous bio)
L-L League Special Teams Player of the Year
Big School (4A-6A)
Adam Noll, Conrad Weiser - Adam is a senior and is the son of Nicole Moore and Kevin Noll. He is a 3-year letterman and 3-year starter for the Scouts. He helped the Scouts flip the field and put points on the board each year. In his senior season, he averaged 40 yards per punt and hit 6 field goals. He tied the school record for the longest field-goal with a 46 yarder at Lampeter-Strasburg. Adam also had 9 touchbacks throughout the season. Adam was recognized for his efforts by being named an All-State Punter for 4A, Berks County Specialist of the Year, All-Berks Kicker and Punter, and Lancaster Lebanon League first team Kicker and Punter. He was also on the Academic Team for his school for all three years. Adam will be attending East Stroudsburg University to major in physical education and continue his football career.
Cam Jones, Wilson (see previous bio)
L-L League Special Teams Player of the Year
Small School (1A-3A)
Josiah Jordan, Berks Catholic (see previous bio)
2022 LL League Football All-Stars
2021 LL League Football All-Stars