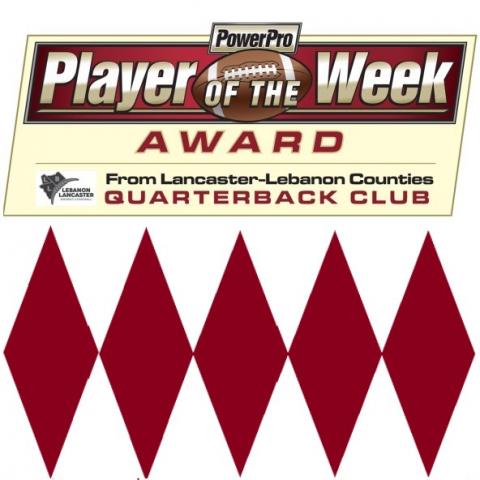 The Lancaster-Lebanon League Quarterback Club, comprising the league's football coaches, selected the following PowerPro players of the week.
Back
Section 1: Cam Jones, RB/CB, Wilson, vs. Manheim Township, 24 carries for 248 yards and 2 touchdowns, passed for one touchdown and from his corner position had  5 tackles and gave up zero receptions.
Section 2: Jack Reed, QB, Warwick, vs. Governor Mifflin, 17-of-21 passing for 254 yards passing and 2 touchdowns while rushing for 51 yards on 11 carries.
Section 3: Josh Rudy, QB, Elizabethtown, vs. Ephrata, 17-of-24 passing for 305 yards with 2 touchdowns and 11 times for 70 yards and 2 touchdowns.
Section 4: Josiah Jordan, RB, Berks Catholic, vs. ELCO, 16 carries for 192 yads and had one reception for 69 yards. 
Section 5: Eli Cunningham, RB/LB, Lancaster Catholic, vs. Schuylkill Valley, career night with 40 carries for 311 yards and 5 touchdowns.
Lineman
Section 1: Logan Kurzweg, C/DT, Wilson, vs. Manheim Township, high blocking grade, played very aggressively and had 2 tackles on defense.
Section 2: Kyle Lash, OG/DT, Exeter, vs. Manheim Township, graded 90% offensively with 3 pancake/knockdown blocks while allowing no QB sacks; exploded off the ball to create seams, consistently executed pull blocks, creating an edge; defensively had 8 tackles, one tackle for a loss, one sack and 3 hurries.
Section 3: Nick Defrancesco, OT, Solanco, vs. Garden Spot, 92% blocking grade, 4 pancake blocks and 6 key blocks for Solanco's run game.
Section 4-Carter Getz, TE, Cocalico, vs. Conrad Weiser, set the edge all night long for punishing outside run game.
Section 5: Darrian Holloway, TE/LB, Annville Cleona, vs. Northern Lebanon, 94% blocking grade on offense, 12 tackles and one interception with a 45-yard touchdown return on defense.