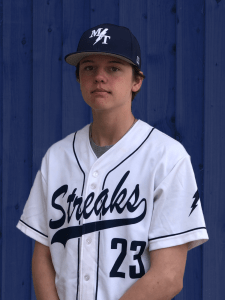 Dylan King had a big day during the quarterfinal round of the Lancaster-Lebanon League baseball playoffs.
King threw six innings of no-hit baseball and knocked in two runs as the Manheim Township Blue Streaks beat Annville-Cleona 3-0. With King reaching the 100-pitch limit, Evan Clark pitched a perfect seventh.
King singled home a run in the first and knocked in another with a third-inning triple, according to Adam Gegg on township baseball's website. On the mound, he struck out 12 and walked 3. Clark recorded one strikeout.
King's no-hit performance came after Coach Matt Kirchoff said in a team YouTube video that he had found himself recently. In his previous two mound stints, he gave up one run and three hits in 5 2/3 innings against Ephrata and then threw a complete-game 2-hit shutout against Penn Manor.
"I had trouble finding myself early on in the season," King said in the video after the Penn Manor game, "and I put a lot of pressure on myself, and that pressure builds up and gets in my head. But the last two starts I just kept my mind clear and just threw the ball."
Coach Kirchoff told us: "Dylan is a hard worker and enjoys the game of baseball. He cares deeply about his fellow teammates and friends. He has a supportive family who supports Dylan and the game of baseball as well. As a coach I look forward to following Dylan after his graduation and through the chapters of his life.
King's no-hit day brought his season stats to 5-0 with a 2.60 ERA. Clark is 2-0 with 3 saves and a 2.27 ERA. The team's staff also includes Colin Fitzgerald, 4-0, 0.58 ERA; Ben Shenosky, 5-0, 1.81 ERA; and Ryan Jones, 3-0, 2.06 ERA. 
The win sent the 20-0 Streaks to the league semifinals against once-beaten Manheim Central.
(Photo courtesy of Manheim Twp. Baseball website)