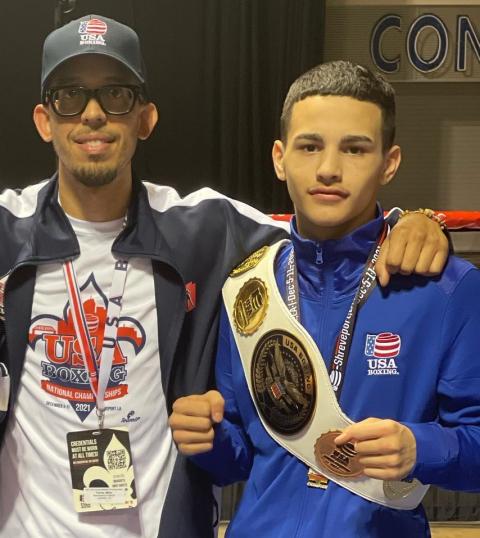 Lancaster's Jerimiah Munoz has made a rapid jump to leader of his USA boxing division.
The 15-year-old McCaskey High School sophomore, in his first USA Boxing national tournament, decisioned Kaipo Gallegos, a 17-time national champion from Las Vegas, in the title bout of USA Boxing's 2021 National Championships in Shreveport, Louisiana.
Ranked 8th nationally at 119 pounds entering the tournament, the win delivers the top spot and a position on the 2022 USA Boxing Junior National Team.
"He is the first boxer from Lancaster to represent the Middle Atlantic Association to have made the national team," Jamil Ali, president of the USA Boxing's Middle Atlantic Association, told Stephanie Bradford, writing for LNP | LancasterOnline. "That is an amazing accomplishment for such a young boxer. He was able to accomplish this goal by beating the best boxers in the country — which isn't an easy task. ... I'm so proud of him."
Willie Torres, Munoz' coach at Lancaster City Boxing Academy, attributed his success to hard work and discipline.
Munoz told Bradford he wasn't nervous entering the ring against Gallegos, a next-level opponent with a stellar reputation in junior boxing. "He's standing in my way, I gotta get past him," he said. "I trained hard. It's not going to be easy, but I can get down."
When he won, his thought was "Wow! I did that!"
The championship includes an invitation to train at the U.S. Olympic & Paralympic Training Center in Colorado Springs, Colorado, and potentially competition at the international level.
-- Dec. 11, 2021; Photo of Coach Willie Torres, left, and Munoz courtesy of Lancaster City Boxing Academy