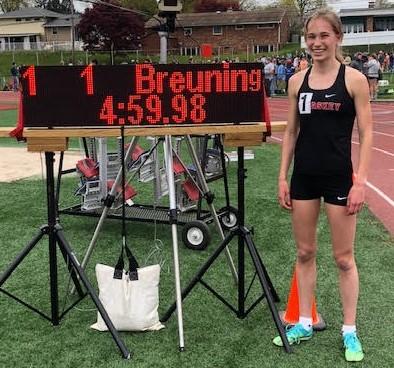 Arielle Breuninger is a senior at Lancaster Country Day School, but she keeps putting her name in the McCaskey Track & Field record book.
Running for the McCaskey team under a school co-op, she became its first girl to run under 5 minutes in the 1,600 meters at the 60th annual Cedar Cliff Relays in Camp Hill. Her time of 4:59.98 was the ninth fastest time ever for a Lancaster-Lebanon League girl, according to local sportswriter Pete Kauffman. 
The previous Saturday, she set a school record of 10:55.20 for 3200 meters at the Leonard Stephan Invitational at Wilson High School, West Lawn.
"Arielle has worked as hard as any athlete I have ever been around to accomplish the things she has done so far and the things she will do going forward," said McCaskey coach Derek Jennings. "None of her achievements are an accident and have all come from her hard work and dedication to getting better. She now has our 1600 and 3200 records and may soon have the 800 and a part of the 4x800 records."
The afternoon of Jennings' comments, Breuninger did set the 800-meter record at 2:14.5 in a dual meet.at Conestoga Valley.
Breuninger has committed to the University of Pennsylvania, where, she told John Walk, of LNP | LancasterOnline, she plans to run cross country and compete in long-distance events for the indoor and outdoor track teams.
She told Walk her key is consistency in training. "My freshman year when I was relatively new to distance running, especially during the winter season, it's difficult to go out and run in the cold. I made sure to make that a priority, to run each day and get my mileage in. There wasn't a noticeable difference right away in the moment, but eventually I noticed my time started dropping. So you might not see impacts right away, but it definitely comes in time."
(Photo by Mike Craighead)