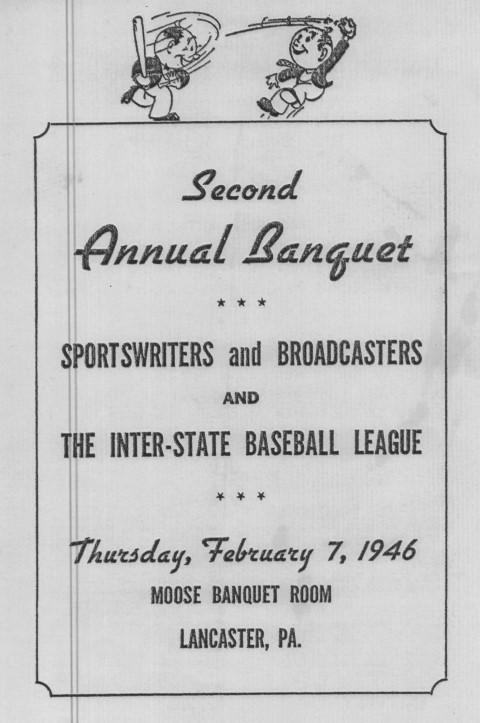 The 4-page program from the 1946 Sportswriters and Broadcasters and Inter-State Baseball League banquet piqued our interest about sports in the county in those days
The Lancaster Sportswriters and Broadcasters Association formed at this same time and held what it called its annual dinner. At least some years in the '40s this was combined with the baseball writers' banquet. 
On this night, the Lancaster Red Roses received the Governor's Cup for having won three consecutive league championships. George Kirchner, president of the association, presented Red Roses star Bobby Moyer with the league Most Valuable Player award, as voted by the writers.
Notable among the speakers was Hall of Fame pitcher Lefty Grove, who gave what was labeled "the first speech of his life." He said the 550 banquet attendees would represent a record crowd at St. Louis, where he said he once appeared for the Philadelphia Athletics before just 39 people.
Among those attending but not listed as a guest of honor in the program were Everett "Hooks" Mylin, former Franklin and Marshall College football star and Lafayette College football coach; Charles W. Mayser, director of athletics at F&M; Lena Blackburne and Woody Wheaton, former managers of the Red Roses; and Tom Oliver, who was the new Roses manager.
Listed in the program and not able to attend were Mayor Dale E. Cary; Bert Bell, National Football League commissioner; and James Sheckard, former Chicago Cubs outfielder.