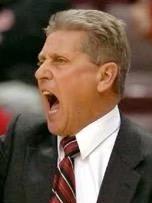 2022
J. Freeland Chryst Award
717 Sports Media podcast with Warren Goodling
Warren Goodling is the winningest coach in the history of Hempfield High School boys basketball.
Goodling directed the Black Knights from 1986 to 2010, compiling a career record of 452-205. That ranks him second on the Lancaster-Lebanon League all-time wins list for boys hoops. Adding his 33 victories at Northeastern (York), he has 485 high school coaching victories.
Under Goodling, Hempfield won the L-L League Section title five times -- 1994-95, 1996-97, 1998-99, 2008-09, 2009-10.
The Knights won the L-L League titles five times as well in 1992, 1995, 1999, 2000 and 2010.
Other highlights during his tenure were:
Eight L-L League Coach of the Year Awards
20 consecutive winning seasons
23 post-season appearances
18 straight District 3 tournament appearances:
Two 29-game winning streaks (1998-99) and (2009-10)
Three L-L League Sportsmanship Awards (2007, 2008, 2009)
Produced 42 college players, including three at the NCAA Division I level, and 16 L-L League first-team all-stars.
He still plays competitive basketball in the Masters Basketball Association as a member of the Lancaster Warriors. In 2018 he was recruited to the USA national 65-plus team that won the MBA's 2019 World Championships in Espo, Finland.