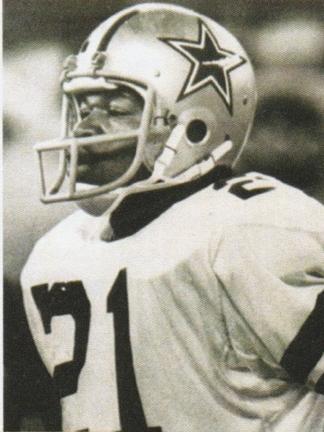 2017
J. Freeland Chryst Award
Doug Dennison produced stellar football careers at McCaskey HS, at Kutztown University and in six seasons in the NFL.
Dennison rushed for 1,112 career yards in an NFL career that spanned from 1974-1979. He played the first five seasons with the Dallas Cowboys. When evaluating Dennison in a pre-season game in his rookie year, Dallas Head Coach Tom Landry told him, "Go in there and show me what you got!"
In 1975 Dennison returned 13 kickoffs for 262 yards – more than 20 yards per return. He scored 19 career TDs, all rushing. Coach Landry counted on Dennison as short yardage guarantee. He finished his NFL career with Cleveland in 1979.
In Super Bowl X ('76), Dennison, the first Lancaster County resident to play in a Super Bowl, gained 16 yards on 5 carries in Dallas' loss to the Steelers. Two seasons later, playing on special teams, he won a ring in the Cowboys' Super Bowl XII win over Denver.
Dennison is a member of the McCaskey Athletic Hall of Fame.